Stepdaughter is getting naughty
Bunny Marthy is lying on a bed, watching something dirty on her laptop. Her hand is going slowly towards her panties and… She can't help it, she starts rubbing her pussy through panties, moaning louder and louder…
Stepmom? What are you doing here?!
Oh no, she got caught? What's now? Her stepmom knows exactly what to do. Bunny needs some extra punishment for being a bad girl. And what's the best punishment for bad girls? Spanks of course!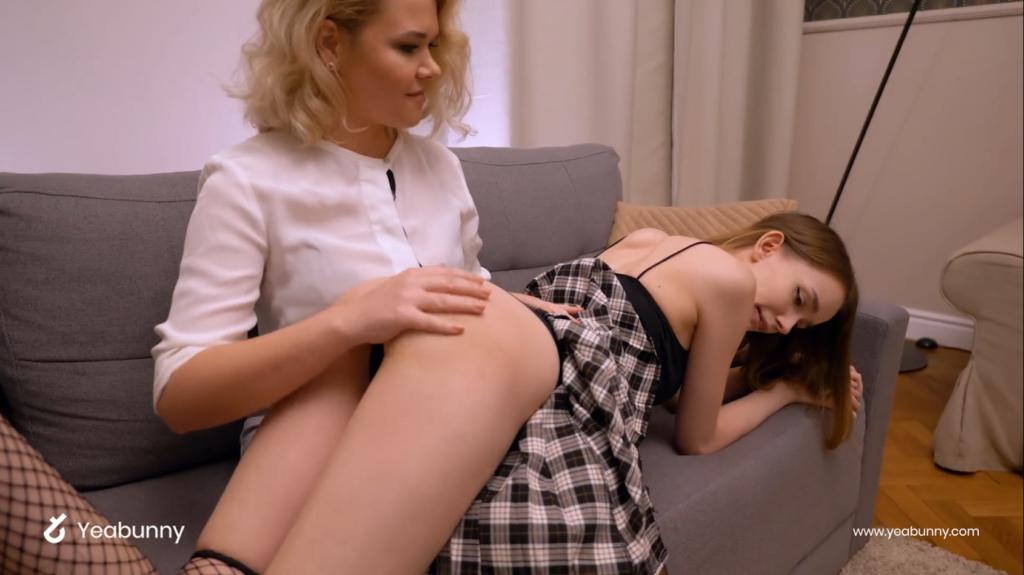 Well, that escalated quickly
Stepmom looking at her daughter's juicy little booty couldn't resist touching her little pussy. After a few spanks, she just takes Bunny's panties off and starts fingering her, just like that. Bunny wants to ask her to stop, but she just can't, this feeling is too good. This "punishment" results in a quick orgasm.

Mommy's turn!
Stepmom needs to teach her disobedient daughter how to behave. She sits down on the couch, orders her daughter to kneel before her, and… You know what she wants. The daughter doesn't hesitate and starts licking her stepmom's pussy. After all, she deserves orgasm too, right?
Time to play!
Time for some mother-daughter playtime! Both of them are finally getting rid of their clothes. After that, they just lie down on the floor, and… well, they go nuts. Kissing, licking, scissoring, masturbating, orgasms – what else could you want?

(By purchasing this product, you agree to the immediate fulfillment of the service (immediate delivery of digital content), thus losing the right to withdraw from the contract referred to in paragraph 13 of the Regulations)