Yeabunny - Polish Amateur Porn
We believe that real amateur porn is the best porn.
Watching amateur porn is a special experience that we want to deliver to you.
Models: Bunny Marthy, Lea_Exe Time: 37:50
It was late November night when Bunny Marthy and Lea_Exe decided to try Bunny's new toy – Strap-on. They were talking about that for some time before it all happened. Everything has been scheduled, and they finally could fuck each other like never before. Just imagine how gorgeous Bunny Marthy uses her fake dick on a friend, making her happy physically and mentally. They also swapped later on!
We specialize in amateur porn videos. That is what we have in our hearts. Because of that, Yeabunny is working closely with amateurs from Poland and other countries to make exciting videos for you to watch and for us to produce. Bunny Marthy helps us keep an eye on the quality of content that you can find on our website, as she is not only a camgirl and actress but, most importantly – our CEO.

We are open to cooperation with girls for shooting videos. Send us a message, and let's create a plan for cooperation together with us!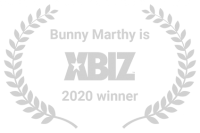 We value your loyalty. That is why we have added the loyalty points system to our website. For every order made on our website, we will automatically add loyalty points to your account. $1 spent on the Yeabunny's products is equal to 1 loyalty point. One hundred loyalty points are equal to $5 – that means that we offer you 5% cashback, for anything you like!

Moreover, you will receive additional points for rating video after purchase! Read more about loyalty points.

Bunny Marthy is one of the best camgirls. She won the XBIZ Europa Awards 2020 in the Female Broadcaster Category. She has a crucial role in Yeabunny as a movie actress and as a company founder. Maddie is one of the most important links in the band, but you can also admire her otherworldly beauty on this page. Let her seduce you and show what she can do. 
In various categories on Yeabunny, you can watch Bunny Marthy in scenes that you will surely like. Categories like anal, feet fetish, or jerk off instructions are full of her beautiful performances. Also, don't forget to watch her friends having a great time together in a lesbian category.
The company has only been developing since 2019, and we already have a nice Polish Amateur Porn database and some fans. We are grateful that thanks to you, our clients, we can develop all the time. We are constantly trying to expand the base of people who appear in our films. For our company, the most important thing is to satisfy you and provide the best content. 
Our story is based on Bunny Marthy's career as a camgirl but also on the first recorded videos that you can see below. The movie's quality has changed since then, and we also have a larger base of actresses. However, we still believe that these films are worth your attention and time.
Yeabunny grew by more people during the year, thanks to which we are able to work for you more and more effectively. We are there for you on social media, newsletter, and Yeabunny. We work all the time to provide you with more and more pleasure through new porn videos, photos, and entries. You can follow us on Twitter, Instagram, and be up to date with the news we send via email.
We also want to help you in case of any problems, so if necessary, we are available for you in the support center. We always try to help as soon as possible and solve problems efficiently.