An innocent girl
Would you like to see Bunny Marthy as a naughty little girl while she is masturbating? Do you want to see a dildo fucking? In this video, you will get it. Look at Maddie; with this smile, she looks so innocent.
Bunny Marthy wears a sexy, black tracksuit. She loosens the zip a tiny bit to give you a better look at her beautiful cleavage. Then she is gently touching her smooth body. Inviting you to have fun with her. Shortly after, she takes off her pants, revealing to you her sweet, firm butt, spanking it from time to time. Have you already took off your pants? She pleases you to do it. Don't cum yet.
– I will use you today – She says. Isn't it exciting?
Time for dildo fucking
Are you sitting comfortably? It is time for a show; time for a dildo fucking. The camera slips, and Maddie is now seen from the back. Now, you can admire how Bunny Marthy is slowly riding her big dildo. You can perfectly see that her pussy is wet; the whole dildo is covered in her juices. She starts to ride it a little bit faster, and her tight butthole is shown. Amazing view. You can also see her feet; would you lick them for your little girl?
Do you also love Bunny's moaning? It is hearable so well. It seems that she loves dildo fucking. Imagine that Bunny Marthy is jumping on your dick, and she is waiting for your cum. An incredible image, right?
Cute little girl's face
Are you a fan of Bunny Marthy's face? In this perspective, you can see all her facial expressions. It really can make you extremely horny but don't cum….She hasn't let you yet.
Bunny Marthy is riding her fake dick and moaning out loud. Just look how fast she is riding it. Would you help her by grabbing her ass? Imagine that you are under her, and instead of dildo fucking she is fucking you, and this pussy is only yours. Her eyes are closed; does it mean she is near the orgasm? This cute yelling and eyes rolling… It is so hypnotizing.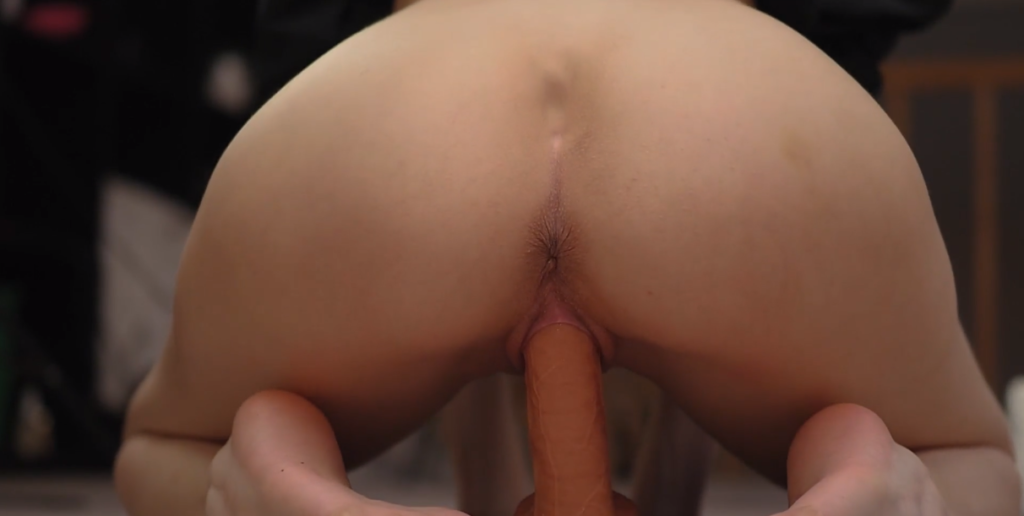 One orgasm is not enough
Bunny has to resist after her first orgasm; she is slowly moving the dildo up and down her little tight pussy. She also decides to show you her tits. Her nipples are so hard.
-So? Doggy. – She smiles and looks seductively at you.
As she said, she did. Now you can see a nice close -up to her pussy. Look how wet she is. Would you like to lick her juices? Hard not to cum, right? It is time for rubbing her clit. Bunny Marthy has to prepare herself for a dildo fucking again. After a while, she pushes her friend in and out. Can you hear this cute moaning? She loves dildo fucking…
Now it is your turn
-So are you ready for cum for me? – She is asking you.
Don't let her wait. Just look how much she wants it. She takes the dildo into her hands and starts giving it a handjob. She is doing it faster with every second. Cum for her; she is ready to take it.
-You were so good, Dog. – She says. Are you happy that she is proud of you? Did you like her pussy and dildo fucking?
Bunny Marthy wishes you only hot dreams tonight; maybe she will be your dream?
Model – Bunny Marthy
Quality – Full HD
Time – 10 min~
Additionals – Masturbation, Dildo, Reversed Cowgirl, 2 Orgasms, Countdown